Company Info
Inspiration & More
Lava Essential Oil Diffuser Bracelet Tutorial
Tutorial by Adrianne Surian
This beginner-friendly tutorial is great if whether you're looking for a fun DIY project or a handmade gift idea. Make one, or a whole stack, and enjoy a bit of aromatherapy all day long. Adrianne says, "Recently, I learned that the porous qualities of lava beads allow them to absorb essential oils and act as a natural diffuser. I'm pleased to say it does indeed work - though you will have to re-apply your oil(s) every day or two."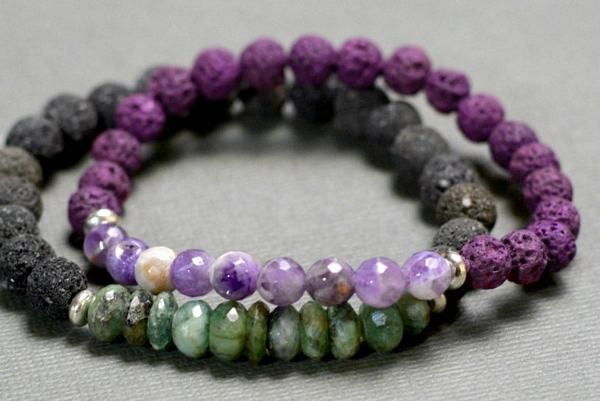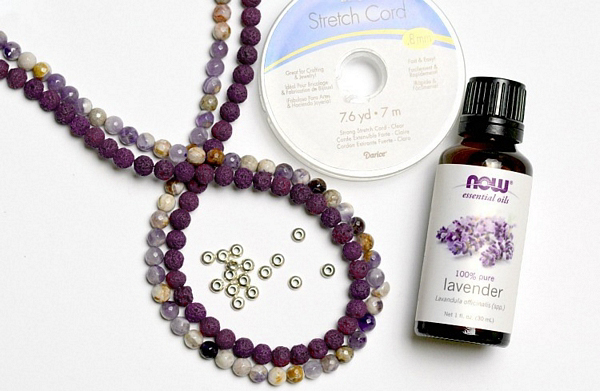 Suggested Supplies:
Lava beads of your choice (our dyed colorful lava beads and Natural finish red or black beads work best for this project).

Coordinating gemstone beads of your choice (in the same size as your lava beads)
Beading glue or super glue (optional)

Scissors

Your favorite essential oils
Please note: some items pictured may not be available from Happy Mango Beads. Please see the above links for suggestions.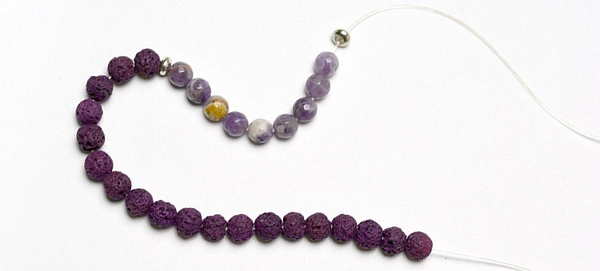 Begin by cutting a 10" length of elastic cord. For this 7.5" bracelet, Adrianne used 5 inches of lava beads, and 2/5 inches of gemstone beads. First, string one type of bead, add a pewter spacer, then add the second type of bead. Finish with the second pewter spacer bead.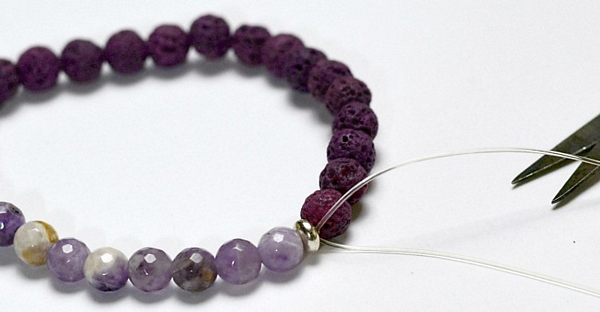 Next, bring the two ends of cord together and tie a square knot (double knot) after the final pewter spacer bead. Stretch cord can be slippery, so Adrianne also likes to add a drop of beading glue or super glue to the knot to be sure it is secure. Slide the pewter spacer bead over the knot before the glue dries, to cover and secure the knot. Once the glue is dry, trim the excess cord with your scissors.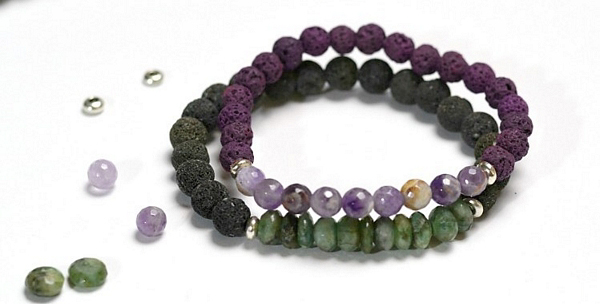 You can experiment with different colors, textures, and shapes! Adrianne says she prefers the 6mm size beads for an everyday bracelet, but larger (or smaller) beads can look great as well. Once your bracelet is finished, add a drop or two of essential oils to the porous lava beads, which will absorb the oil and hold it close to your skin all day, gently diffusing your favorite scents. The oil will last for 1-2 days, so you can re-apply as necessary and even change scents on your bracelet.